As we all know that YouTube is accepted widely, new content-creators are joining YouTube daily. And Popular Content-creators or YouTubers monetize their content widely and obviously, they can do so because they have right in their content. But due to that, we have to watch lots of annoying Ads in between the content.
And we always think that How to get rid of this kind of Annoying YouTube Ads or How to Block Ads on YouTube Android App. while consuming the content on YouTube. There are multiple Browser extensions to block Youtube Ads for PC I'will mention the name for the same by the end of this Article.
But you have always question about How to Block Ads on YouTube Android App. I 'will tell you the step-by-step process to Block Ads on Youtube Android, so stay with me till the end of this article and you will come to know about Block Ads in Youtube App.
YouTube Ads that Make you Mad
YouTube has multiple Ads format. But some of the ads format are there that Drive You Nuts. And you will be struggling to block those annoying Ads. Some of them are described below.
Non-Skippable Ads
Non-Skippable Ads are launched by YouTube in January 2018, and till now YouTube is continuing with this Ad format. Non-Skippable Ads will appear anywhere in the video. Previously these ads are for 5 Seconds. But now YouTube shows you the Non-Skippable ads for 15-20 Seconds At least.
To be straight forward you're forced to watch the unwanted ads while consuming the content. Cause we all consume content on YouTube for Free and it's widely used. YouTube is pushing us irrelevant ads without any reason.
Continuous two Ads
Other than non-skippable ads there is another annoying ad format that shows you two ads in a row. YouTube says that Showing Back-to-Back ads do a favor for viewers, As YouTube claims to reduce the number of Ads interruptions between the video. But in reality, it doesn't happen. You have to watch (Skippable and Non-Skippable) ads in between the video after you watch two videos in a row at the starting of the video.
How to Block Ads on Youtube Android App
Mostly we use YouTube Android App for watching or listening to podcasts and music. But it's really annoying if you get some annoying ads in between when you are listing to your Favorite podcasts or music to overcome the same thing I'm going to share with you a trick by which you can Block Ads on Youtube Android app easily. So without any further delay let's jump right into the content.
Step 1: Install the Android App called AdGuard, You can also install the Android App.
Step 2: Once you have Installed the .apk file on your Android device, set-up the app according to your preference.
Step 3: Now to bypass the YouTube Ads on your android device, select the video to want to play then click on the share option.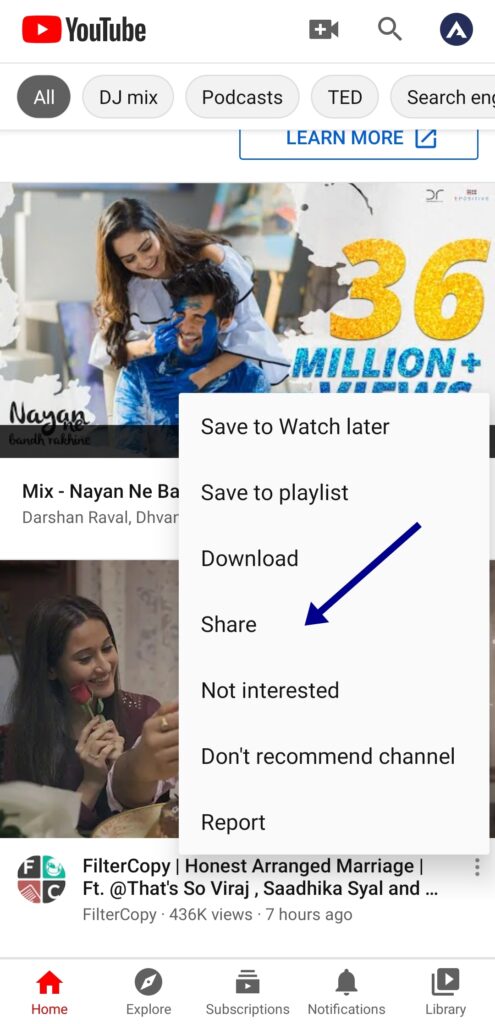 Step 4: Now share the video with AdGuard, This will open the same video in AdGuard video player & Block Ads on Youtube Android app.
(Alternate) Bypass Ads on Youtube Android App
If you are using YouTube more for listening rather than watching the videos, then I've one good alternative for you to check it out. This will save your phone data as well as bypass the YouTube ads on the Android app.
Step 1: First Download the .apk called YMusic.
Step 2: Once you have downloaded and installed the YMusic app.
Step 3: Now listen to your favorite music and podcasts without any interruptions or annoying ads.
And most importantly this app also Interact with the YouTube Android app to make your experience more seamless while listening to music and podcasts.
Extensions to Block Ads on Youtube
Final Notes
As we have come across multiple ways to Block Ads on YouTube Android app, and I hope this will help you in bypassing the Ads on YouTube. I will never recommend you to bypass or block the ads on YouTube or any other similar platforms because this is the primary source of revenue for the creators who will not get sponsorships from big brands.
But sometimes YouTube becomes mad and starts showing you lots of Advertisements instead of the content. So these are the simple ways by which you can Block Ads on Youtube Android app, and enjoy content consumption.
---
Also Read: 8 Best Ways to Fix Gmail Attachment not Working Error