Planning to start an Ecommerce Brand, and now searching for the best eCommerce platform for your store, right? Before starting an eCommerce brand it's really important to choose the best eCommerce platform to start with.
This is going to be the big decision and the one that's going for the long term with your brand. Picking the best eCommerce platform is like picking the best car in the market.
Today I'm going to help you in choosing the best eCommerce platform for your upcoming eCommerce brand with a comparison between the best eCommerce platforms available in the market.
The Best Ecommerce platforms at a glance
Before you start picking up the best eCommerce platform for your brand, let me tell you one thing, in this comparison I've decided to focus on a couple of factors regarding the eCommerce website software are as follows: popularity, features, customer service, pricing, and ease of use.
---
1. Shopify
Shopify is one of the most well-known eCommerce platform available in the market.  The company was set up in 2006, the founder of the company thought that there was no simple eCommerce platform available so they built their own. To set up Shopify you don't need to be too much technical or design experience.
If you want to set up an eCommerce store within minutes then you can easily do the same within minutes. You have to just choose from a wide range of templates. Shopify accepts a comprehensive range of credit cards, has Level 1 PCI compliance, and 256-bit SSL encryption for security. Shopify also provides 24/7 Support via phone, email, and chat.
Shopify provides full CMS within that user can manage their eCommerce store functionality including layout and user visibility. Shopify offers mobile apps so that the users can manage their store on-the-go. If you build your eCommerce store with Shopify the website itself is responsive, meaning the store will be optimized for visitors whether they access it from a mobile device or a desktop computer. It comes with the inbuilt function of chat in which you can easily chat with your customers. Shopify also supports 3d Models and video too, you also get an option to create custom storefronts on Facebook and Instagram.
Shopify also offers in-depth analytics that how the users using your website, and functionality for marketing such as SEO, a discount and coupon engine, gift cards, and email marketing tools. Shopify comes with a free trial of 14 days.
---
2. Bigcommerce
Started in 2009 Bigcommerce promises to "support your business not just your store" Bigcommerce offers support via phone, Instant Chat, and email, Bigcommerce also offers tutorials in the form of article, video and also help you by connecting to a team of eCommerce experts, who can guide you along with your eCommerce journey. Experts are qualified in Google Adwords and Analytics.
Same as Shopify, Bigcommerce offers a variety of themes for your eCommerce store so that your store looks the best and your store is up and running quickly. Alternatively, users can design their own custom design for their store. Bigcommerce comes with full-functional CMS that allows users to control the whole website rather than just managing a store.
The users of Bigcommerce is much more benefited from detailed and flexible product management, optimized search engine rankings, along with a variety of integrated tools for marketing and analytics. You can easily accept payments from customers with 40+ pre-integrated payment gateway and the shipping details can be customized according to the business requirements.
Some new features are also added like support for Amazon Import and Link and Shopping in Instagram Stories. Bigcommerce offers automated order processing, supports multiple currencies, flexible tax rules according to the product from where orders are made and shipped. Bigcommerce comes with the 15 days trial period.
---
3. Volusion
Alright, Volusion is the old player in the eCommerce platform it has been here for almost two decades, set up in Texas in 1999. Volusion is "All in one eCommerce solution"
As we have discussed above that the other eCommerce platforms offer a variety of premade templates that we can use to build our eCommerce website and on the other hand, we can also customize the theme as per our requirements.  But Volusion offers a custom design service that can incorporate branding and a firm's social media presence.
As expected the platform provides the site and product management tools such as marketing functionality, SEO, Affiliate outlets, and Social media along with email and order management functionality for the fast processing and the acceptance of the payments, tax calculations, and POS integration.
In addition, services associated with its platform, Volusion offers apps from its partners, to support users and a knowledge-base for help with e-commerce. Users can draw upon blog posts, guides, and webinars. Volusion comes with the 14 days free trial.
---
4. WooCommerce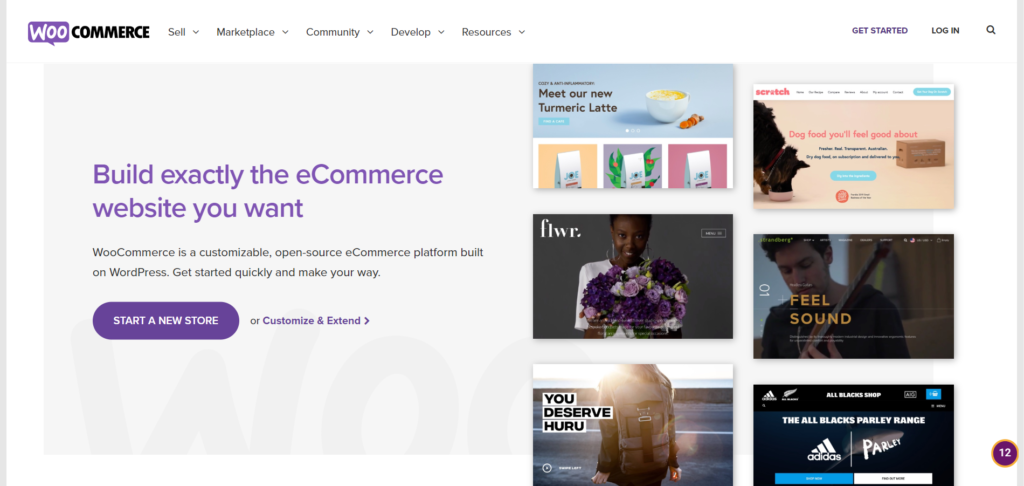 So first thing first, WooCommerce is a free and open-source WordPress plugin. WooCommerce itself is free to get started, but you must have website hosting and WordPress is installed and configured in place. If you decide to enhance your online store you can do the same with some premium extensions out there.
Just like other paid eCommerce platform WooCommerce has several free themes that you can use to build your online store. And another option is to purchase a premium theme or custom made for your brand.
With WooCommerce you can set up multiple payment gateways including major credit cards to integrations with Stripe, PayPal, etc. with the help of some plugins you can set up multiple payment options without any setup charges or monthly fees.
All of the inventory management, tax calculation, and shipping rates management takes place in the WordPress interface. You can integrate your WooCommerce store with Google Analytics to keep track of data.
WooCommerce offers you a great support forum to work out with the setup of the plugin and your online store. The platform is totally free and you are expected to handle things on your own or you can hire outside developers to do the same for you.
And most importantly, you get a 30 Day Money back guarantee with every purchase you made from the WooCommerce app store.
---
5. Magento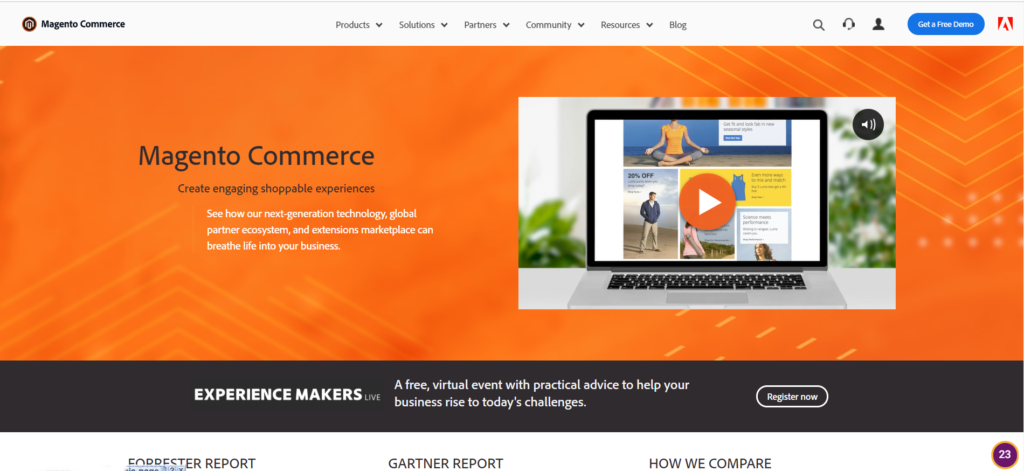 Magento also has a good name in the segment of eCommerce software, Magento is an Open-source platform is designed for small business and developers. If you are planning to build your online store Magento is also the great eCommerce software to start your online business.
Magento is fully responsive, with the open-source platform you have the freedom with customization. This means you need to build the store up yourself. You can get additional plugins and eCommerce extension through Magento Marketplace. However, if you don't have experience with Magento, you need to hire someone who does.
The Magento eCommerce software is integrated with the PCI complaint Payment solutions. This means that you are responsible for setting up the payment gateway.
Managing a Magento Open Source store also requires some extensive experience. The platform has integrated with checkout, shipping, and payment modules. But again to need to set up them yourself, no fancy drag and drop function, any default dashboard or simple input modules.
There is no direct call, message, or email technical support with open-source of Magento eCommerce software, however, you will get guides, walkthroughs, and forums dedicated to any questions related to Magento's platform. You will get developers to hire for your project who specializes in Magento's online stores.
Magento is also available in paid version which cost you thousands of dollars.
---
Final words
So, its time to wrap up the topic, when choosing the best eCommerce platform for the online brand I've given you the multiple free and paid option to work with. If you talk about the security point of view all the platforms mentioned above are secure. But the most important question that arises that do you have any programming experience or not. If you don't have any then it's better for you to go with plug and play platforms.
When you are looking at a paid platform all the features are not available from the start, still there are some features for which you need to purchase some plugins or extensions. And the same goes for free and open-source platforms.
In the beginning, I've told you about the popularity, if we talk about the most popular eCommerce platform mentioned above is Shopify which is paid another one is WooCommerce which is free and plug-and-play and the last one is Magento which is open-source and you need experience in programming for using that.
There is a possible way to build an online store without spending a single penny (except for hosting), but it's all up to you what's your budget and your needs.
Alright, now you can let me know me in the comments section which eCommerce platform you are going to use for your upcoming eCommerce brand and why?