Bluehost is one of the Premium web hosting providers for a long time, they gained the trust of the customer over a period of time. That's why many of us love and trust Bluehost to host our website.
We also provide Bluehost coupons and deals so that you can get a discount whenever you purchase any product from them. Bluehost has two different services one is global and the other one is for India. (Bluehost India vs Bluehost.com). Since both the hosting services are good but sometimes the users face difficulties in making choices.
Bluehost India vs Bluehost.com
As we all know Bluehost is one of the best companies to provide hosting services at a pocket-friendly price. Bluehost is owned by Endurance International Group (EIG).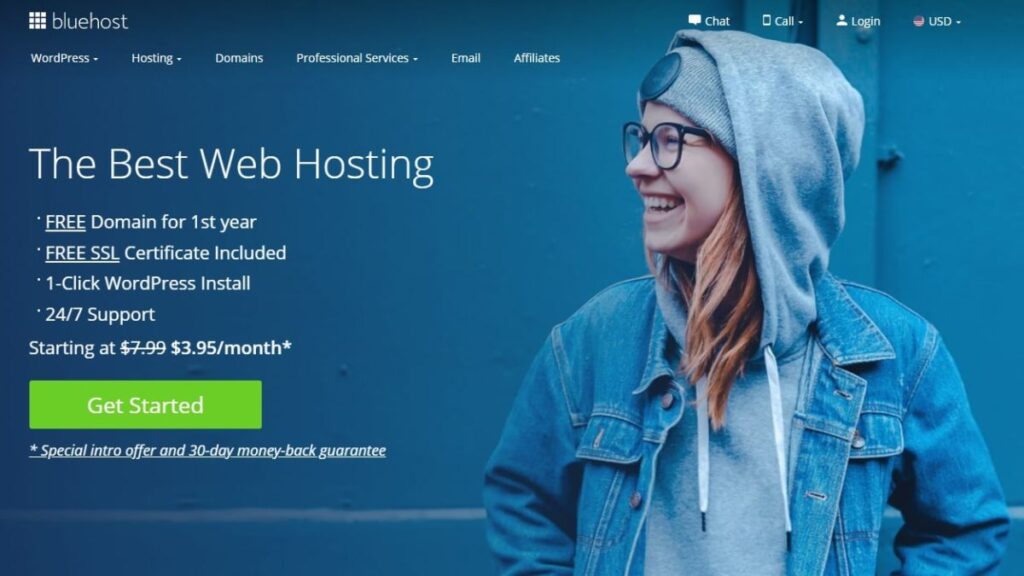 Bluehost.com is the global version of Bluehost that hosts websites all over the world. Bluehost has different hosting plans such as Shared Hosting, VPS, and Dedicated servers for WordPress.
The shared hosting of Bluehost is good for beginners because it has maintained its quality and consistency for server uptime. and most importantly Bluehost provides world-class technical support to the customer.
The Endurance International Group (EIG) based in India owns Bluehost India. Bluehost India has dedicated servers for Indian customers with different domain extensions.
This allows the users to choose between Indian Servers and Global Servers. Domain and Hosting services which is sold in India are through ResellerClub, which was acquired by EIG in 2014.
What Led Bluehost into Bluehost.com & Bluehost India
Bluehost.com the global version uses the standard International payment method of Credit cards and PayPal. There was a problem with the Indian customers who are unable to purchase the services from Bluehost. Anyways Indian users can use PayPal now. Therefore, to give them an option of purchasing the services the company decided to establish Bluehost India.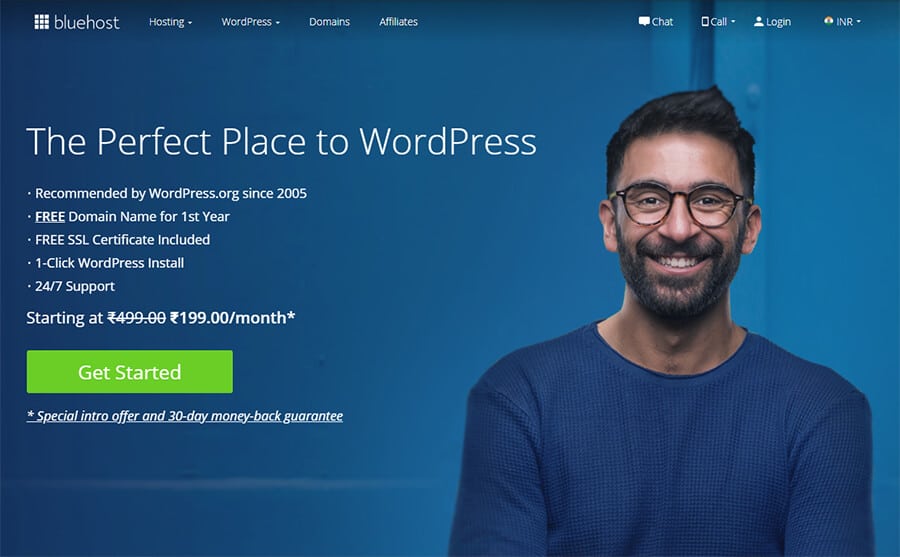 Both the version Indian and global version has standard Cpanel Dashboard. For Bluehost India, they used the same developers as Bluehost global. Users also get the option to switch in between. Thus making the management of Bluehost India is easy for any users.
1. Bluehost Hosting Services Bluehost India vs Bluehost.com
Bluehost Global and India offers great services for all kinds and all regions of customers. Bluehost is really pocket-friendly options for you and your business. The services which are provided by Bluehost is Shared Web Hosting, VPS hosting, Domain Names, Dedicated Web Hosting, and Pro Web Hosting. Bluehost provides these services with great support and affordable price.
other than that Bluehost provides the best hosting services for the Indian customers, which include the solution such as Windows hosting, Specially optimized WordPress Hosting, Dedicated Web Hosting, Windows and Linux Reseller Hosting.
2. Bluehost India vs Bluehost.com Pricing
If we compare Bluehost global or Bluehost India with other hosting providers out there you will find Bluehost a bit more expensive. Anyways Bluehost is value for money, I'm repeating the same cause they provide excellent tech support and great server uptime.
There are three plans to start with for Bluehost India, which offers a different level of performance quality for different versions. As we have earlier discussed they have different hosting such as Linus and windows, Shared and dedicated.
Price may change when you are reading this blog, so I'm attaching the link to the Pricing section of Bluehost.com and Bluehost India.
3. Bluehost India vs Bluehost Global Uptime
This is the place where both Bluehost Global and Bluehost India will compete with one another. Both of the offers guarantee 99.99% of the uptime to the users. Obviously, the company which is providing this much uptime will charge you a bit more. So whenever you are talking about the Server uptime Bluehost will give you satisfaction.
4. Backup Bluehost India vs Bluehost.com
Bluehost servers already have a good name in server optimization. That's the reason why I along with the WordPress resource page is recommending you to use Bluehost. Bluehost.com or the global version offers you Daily, weekly, and Monthly backup options to the user.
This keeps your mind in peace that if things went wrong with the website at least you have the backup to restore the same to its previous position.
Alright, in the case of Bluehost India the user will get the option to choose the server location of India or the US. That means that you can use Bluehost India but your server will be located in the US. Which makes Bluehost the Best rated Hosting provider for WordPress in India. Most importantly Bluehost servers have the world-class hardware to protect their servers and flies of your website. That makes it happen to do regular backups for your website in a seamless manner.
5. Refund Policy
Bluehost.com Global and Bluehost India offer a 30 days money-back guarantee to the users if they don't like the service and the performance. It's basically like No questions asked Money back guarantee.
So users can simply take 30 days trial before purchasing the service from Bluehost Global and Bluehost India for multiple years for themselves and their business. This policy is really flexible for the customers and their needs.
6. Customer Support Bluehost.com vs Bluehost India
Bluehost Global is for the long time in the Domain and hosting services and they are the one to know the importance of the great customer support. Bluehost Global provide the multiple ways to reach the customer support team. User can reach to the customer support by Knowledge Base Support, Customer support Personel 24×7 via phone through IVR guidance, Live chat, Email, and Telephone.
Just like the other hosting companies out there Bluehost Gobal has the resolution time of 30 Minutes which is quite good and acceptable.
Bluehost India also offers good customer support, and Bluehost India also gives multiple options to contact 24×7 customer support executive as-well. The customer support team for Bluehost India is also well versed in technology and trained personnel. But the response of the Bluehost India support team is not fast as compared to Bluehost Global or Bluehost.com.
From Where you Should Buy Hosting?
At this time you have the question in mind that from where you need to buy Hosting? Bluehost India and Bluehost Global. So my suggestion will be Bluehost Global because there are some extra things that Bluehost.com offers that are better as compared to Bluehost India.
At this point in time, you can create a PayPal account and easily buy Bluehost services from Bluehost Global. Bluehost Global also offers Free SSL to the users.
The Best thing I found in Bluehost that they are using the same infrastructure as they are using in Bluehost.com. They ensure that your site will remain up and get good technical support in the best possible way.
Wrap up
Now it's your turn you can compare the pricing and other things of both Bluehost Global and Bluehost India and get started with the service which is best and efficient for you and your business.
If you don't have any means to do the international payment, then you can go with Bluehost India, it will also give you the option of switching to Bluehost.com if you need.