Reliance has the habit of staying ahead for a long time. So finally Jio launched their own video calling app JioMeet. The demand for video calling apps these days increased rapidly. Zoom, Google meet have witnessed.
JioMeet already is live for IOS and android right now. Like other video conferencing app, App allows you to place HD Video calls to your friend and colleagues for free.
Register with the Phone number or email. Within the app, you will get an option to join a video call as a guest using the conference link sent to you. You just need a meeting ID and Your name.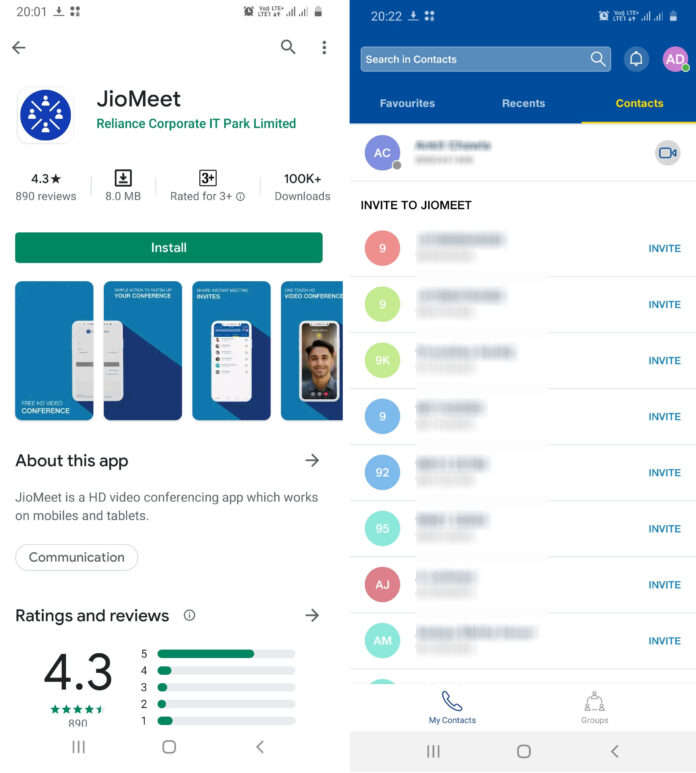 JioMeet: Features
Once you open the app you will see three tabs at the top of the app – Favorites, Recents, Contacts. For video calls, you have to just tap on the video call icon next to the person's name. App automatically adapts the quality based on the network performance. Other than that you can exchange texts in an overlay over the video call.
In JioMeet it's really easy to make a group video call. App provides some basic admin tools to host the video conference. The host can mute or kill the video feeds of any specific participants. The host can easily kick out any of the participants with just tap of a button.
In Pro and Business plan the video conference call is PIN protected as JioMeet mentions in their site. In a free plan, you can add up to five participants. In pro and business plan you can add up to 100 participants to join video conferencing.
Just like other video conferencing app JioMeet uses SSL 128 Bit Encryption to ensure the security of your calls. Your call is encrypted on the go, and most importantly app has a conference history feature so that you can listen and view old calls if needed.
JioMeet: Impression
After using the JioMeet app, I found that the interface looks quite old styled as similar to other Jio apps. This is not my biggest concern about the app. The app doesn't show the full-screen UI when the recipient receives a video call. Instead of that the app just shows a notification, if we tap on that notification then it will take you to the full-screen UI to take the video call. So easily your friend and family can't notice that someone is calling. Another big problem with the app is that it will take gala time to connect the video call. You have to wait for 3-4 seconds for the popup to appear on other person phones.
You can download (FREE Android & IOS)
Final Thoughts
JioMeets needs lots of updates to become a decent video calling app. But currently, you can rely on other video calling apps like WhatsApp, Google Duo, which gives you a stable calling experience along with some other cool features. So guys, if you are installing JioMeet on your device kindly let me know your feedback in the comments section below.