Video calling is getting popular day by day, people prefer video calling more than the voice call. After the Jio revolution, all smartphone users have enough data to spend, so there is no need to worry about the data. Well, there are lots of video calling apps out there, so it's quite hard to decide which one is better for you to use.
So here we combined some video calling apps which you can use for personal and professional purposes to host a group video call.
In this post, we have listed down the top five video calling apps to connect with your friends, family, and office folks, all the listed apps are not limited by the platform. So without any further ado just swipe up.
1. WhatsApp
Cool, as you swipe up, let's start the list with the most popular app of all the time. Billions of users are already using the WhatsApp. The basic requirement in WhatsApp is just you have to know the phone number of the person you want to call.
To initiate a video call in WhatsApp you have to just call one person and add other contacts on the same call or in the other way you can click the video call button on the group chat and select the member you what to add to the video call. And the best part of WhatsApp is it uses the least possible data.
WhatsApp is available multiple platform and you can add up to 4 members in the group video call.
---
2. Google Duo
These days google duo comes pre-installed in most of the phones, once you add your Google account in your smartphone it's the matter of just a few seconds to set up google duo for your device. You can expect good video quality of video calling in duo as compared to WhatsApp.
For group video calling in google duo, you can even create a custom group. As Google duo supports up to 12 members in video chat its good enough to catch up with your old friend's group, Family, friends, and host small meetings too. Most importantly google duo offers a simple and clean interface to set up your account so that anyone can set it up within a short span of time.
Google duo is available in Android, iOS, and Web and supports up to 12 members in group video calling.
---
3. Skype
How can we miss out on our old buddy in this list, since 2003 skype has done a fabulous job. From 2003 skype is still the most reliable voice calling and video calling service. Out of the several features present inside, one of the most important features I personally like is screen share. That makes things simpler and easier to understand while communicating with all group members. And if you don't want to share the location from where are you calling the app has an inbuilt feature to blur your background.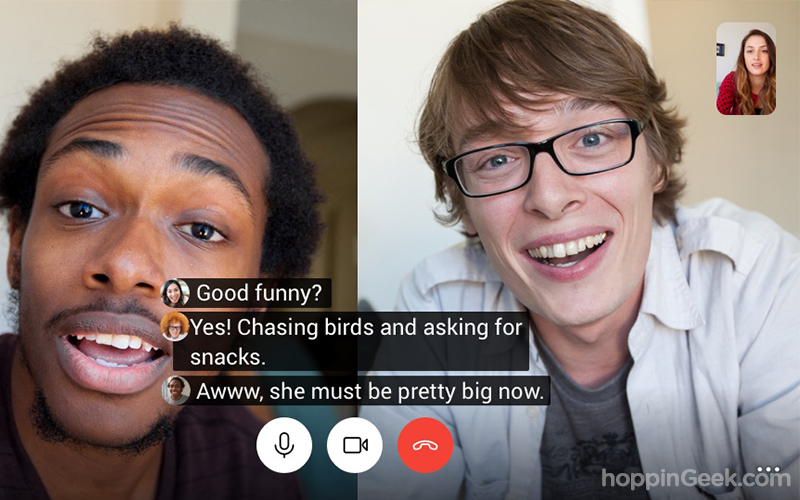 Skype is available for Android, iOS, Windows, macOS, Linux, and Web and supports up to 50 members in the group video call.
---
4. HouseParty
As the name sounds like fun, but Houseparty is new in the market among the video calling apps. Houseparty is perfectly suitable for calling your friends, family members. The best part of the app is that you can enter into any existing video call with your members, and you don't need an invitation form the people who are already on the video call. Once you have a friend list in Houseparty, the app lets you know that your friend is online and you can easily hang out with them over a video call.
That's why I told earlier, Houseparty is great for hangout with friends and family members. It also includes games that you can play in a group, which makes Houseparty unique among all the apps listed
Houseparty is available for Android, iOS, and macOS and supports up to 8 members in the group video call.
---
5. Zoom
How can we forget the fastest growing in Video calling app in the market for hosting the video conferences. The app had about 10 million users in November 2019, and the number skyrocketed to 200 million users by the end of March this year. Zoom has a free plan for everyone which is pretty much good, they have paid plans that you can check out. If you host a group video call or webinar Zoom provides you a top-notch video quality. If you use a free plan for a limited period of time then the free plan is enough for you. The only shortfall of the free plan is you get up to 40 minutes of group call and add up to 25 members. You can also share desktop screens images and other files over a video call, and lastly, you can add virtual background during your video call.
Zoom is available for Android, iOS, and macOS, Windows and You can add up to 25 members in the group video call.
Important: I strongly recommend you not to share any kind of confidential data over the video call using zoom as they may share your data with other different companies.
---
Security is the rising concern because of end-to-end encryption in video calls. so I recommend from my side not to share screens, documents or sensitive files along with your video calling apps.
So, if you have read about all the video calling apps listed above which one you are going to download for your personal and professional use, kindly let me know about your thoughts in the comments section.