OnePlus have done a wonderful job in designing OnePlus 8 Pro a true flagship phone with features like wireless charging, 120Hz refresh rate, a superb display, and great hardware specs. However, the phone specs is not enough for making the whole experience great. Along with powerful app in device, powerful accessories plays a vital role in boosting the whole smartphone experience.
So, if you have bought the new OnePlus 8 Pro, we have curated the list of OnePlus Accessories for OnePlus 8 Pro which you should buy to amplify your overall smartphone experience.
OnePlus Accessories List
---
1. OnePlus Bullets Wireless 2
If you love music and want to stay within the OnePlus ecosystem then you should definitely buy OnePlus Bullets Wireless 2. OnePlus Bullets Wireless 2 have a balanced audio output with just perfect bass. And as per the latest trend the neckband design is sleek and you can just hang them around your neck. OnePlus Bullets Wireless 2 also support aptX HD.
It doesn't end here OnePlus Bullets Wireless 2 has long battery life, in just a single charge, they almost last around 14 hours with continuous usage in moderate volume. And yes the earphones charge pretty quickly with its Warp Charge 30.
With just 10 minutes of charging you will get 10 hours of playback. Shocking right? And obviously connection with OnePlus Ecosystem are prompt.
---
2. Jabra Elite 75T
If you are looking for wireless earbuds, then you can't Miss Jabra Elite 75T newly launched earbuds. With sleek and slim design of Jabra Elite 75T it is new generation earbuds that is really comfortable to use. The prime thing in Jabra Elite 75T is the audio output it gives. The audio is balanced and have deep and rich bass. You can use USB Type-C for charging. The passive noise cancellation adds cherry in the cake and boost up whole music experience.
The battery life is fairly decent it gives you around 7 hours on battery, with the case churning out an additional 3 cycles of battery life.
The Companion app of Jabra Elite 75T is feature-rich. From sound transparency feature to soundscapes. These wireless earbuds have physical buttons, but thankfully the placement of the button is great they are flexible and don't press against the ear canal.
---
3. Aukey CB-A1-2 (USB-C TO USB 3.0 ADAPTER)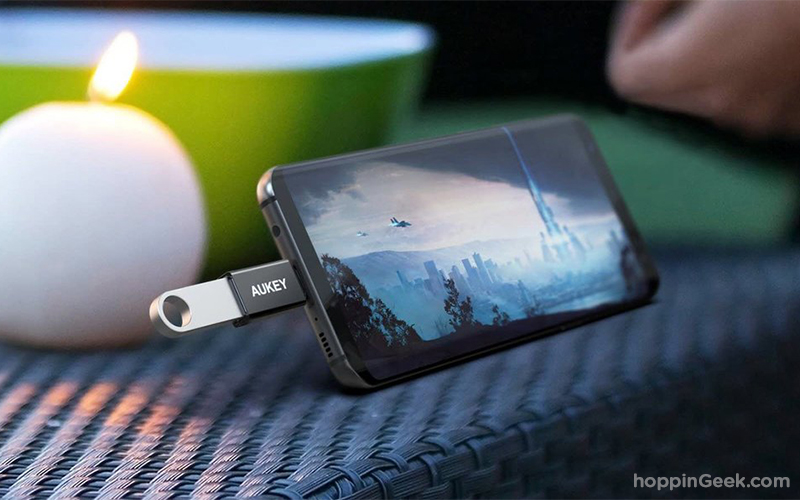 If you want to transfer the files to the OnePlus device from USB device then you can take the use of the Aukey CB-A1-2 on the go. The Aukey CB-A1-2 allows the simple way to transfer the files. It allows you to connect a USB-A cable or a flash drive to one end of the adapter, while the other end of the adapter goes to the USB C-Port of your phone.
Compact design and great finish of Aukey CB-A1-2 makes it portable and easier to grip. The USB 3.0 means you get the data transfer rate up to 5 GBPS.
---
4. Spigen Tough Armor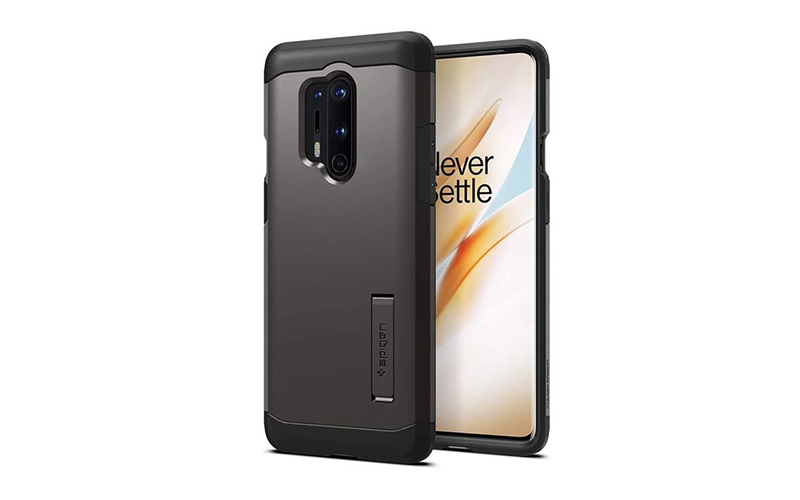 If you want robust protection to your phone then Spigen Tough Armor is only for you. The case is made up of a combination of TPU and Polycarbonate material and packs a double-layer construction consisting of a foam-based inner layer and a hard outer layer. Just like Coconut. 🤣🤣
The inner layer is designed to absorb the shock and the hard layer outside is to keep phone protected. As you can see in the image you get kickstand to make your Netflix and Amazon Prime series watching more comfortable and hands-free.
As the case is giving you more layers under layer to protect your phone, adds a bit of bulk and you might have to sacrifice the slim look of your phone. Thankfully you won't have to take your phone out to wirelessly charge your phone.
---
5. Mivi CC2QC3 Dual Port Car Charger
Okay, if you are not on the home or the office still you don't need to think to charge your phone on the go. This super handy device connects with your car's 12V outlet and charges your phone just wow. Just don't forget to carry the OnePlus charging cable when you do so.
---
So, out of these OnePlus Accessories which one you are going to buy first and how they are going to impact your daily life? Please let me know in the comment section below.
Tool useful for you: Pinterest Downloader