Laptops are compact and therefore easy to handle, but sometimes the compact nature of a laptop turns into a problem. Whenever you need to do some graphical stuff, that needs a big screen or multiple screens to work.
Thankfully we have few options in the form of portable monitors for the laptop. That attach with your laptop, thus helps you out in increasing the screen real estate, so that you can work with ease.
The Best part about portable monitors is, most of the monitors mount via magnets, and you can carry them along with your laptop with ease. Portable monitors have petty decent screen quality, and lightweight so it doesn't add any extra heft to your laptop bag. and you can carry it almost anywhere.
So, without wasting more time, let's jump right into the Best Portable Monitor for Laptops.
All Best Portable Monitors at Glance
Asus ZenScreen MB16AC
Asus MB169C+
Asus MB168B+
Desklab Ultralight Portable 4K Touchscreen
---
1. Asus ZenScreen MB16AC Portable Monitor
Resolution
1920 x 1080
Pros
Thin & Light.
Excellent image quality.
Cons
Expensive.
Low brightness.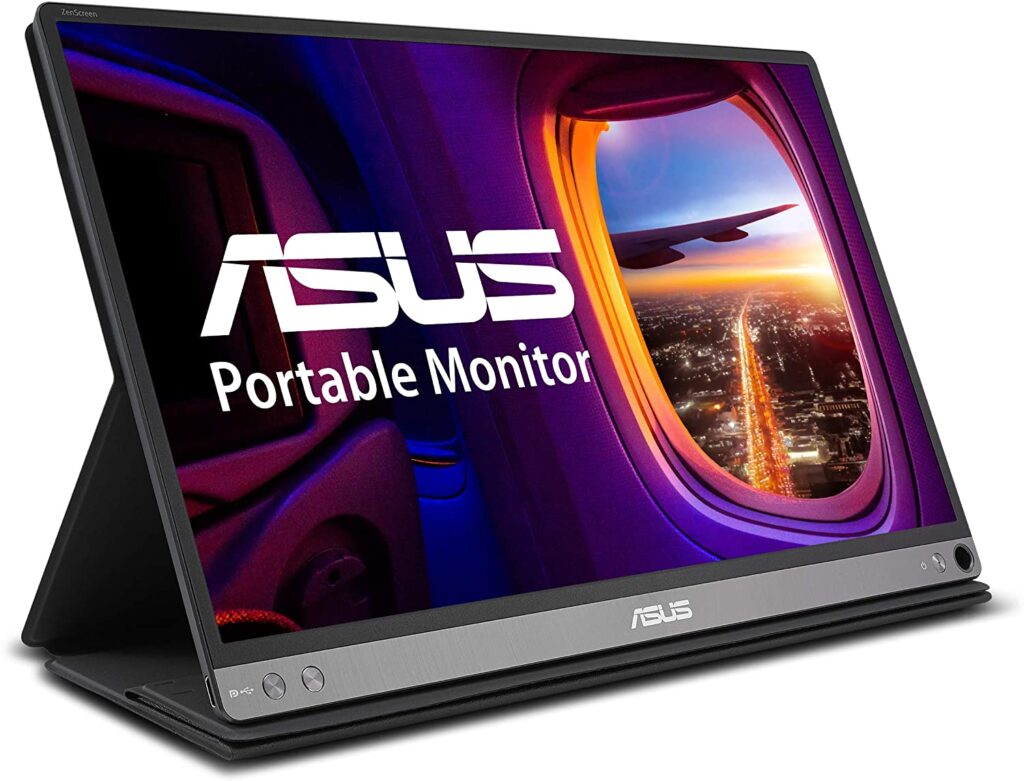 Asus ZenScreen MB16AC Portable Monitor is one of the Sleek and Premium looking monitor. You can connect this portable monitor with a USB on your laptop. Asus ZenScreen MB16AC comes with a number of features and design considerations that make ZenScreen MB16AC a more handy device to use on a regular basis.
If we talk about the most important part pricing, ZenScreen MB16AC is petty expensive, as compared to other portable monitors on the list. As this device is expensive the build and image quality of ZenScreen MB16AC makes this value for money product.
---
2. Asus MB169C+ portable monitor
Resolution
1920 x 1080
Pros
Thin and light.
Good viewing angles and picture.
Uses single USB-C.
Cons
Slightly too dim.
Fiddly menu control wheel.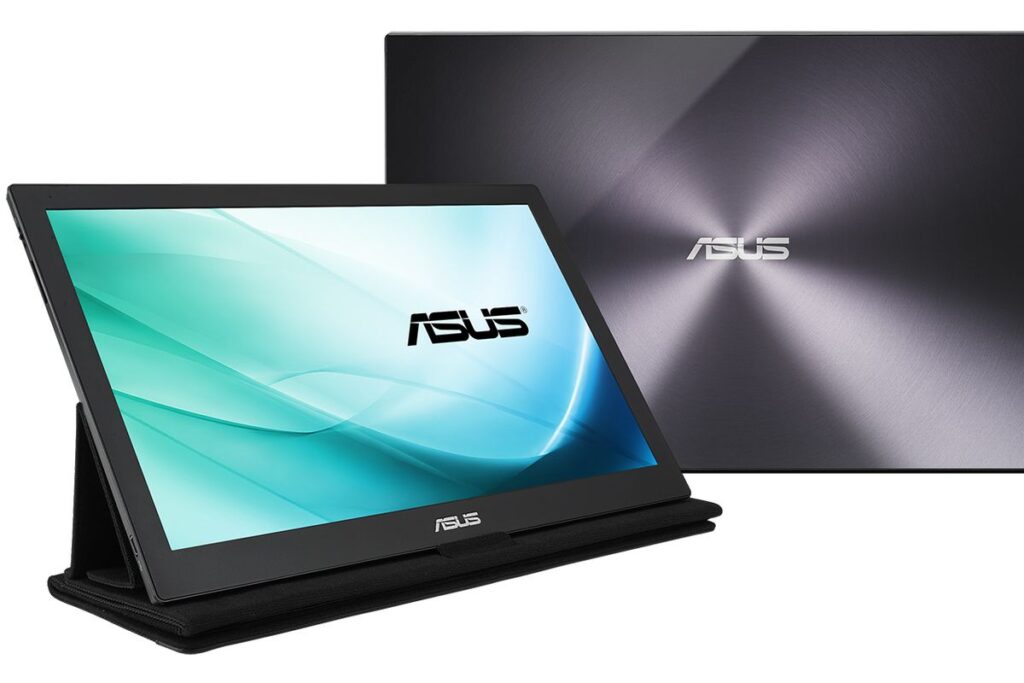 Asus MB169C+ 15.6-inch screen size makes us feel like we are using the regular monitor. MB169C+ packed up with the Pixel resolution of 1920 x 1080, which is perfect for portable monitors. You can smoothly work on two applications side by side and stream Full HD Videos.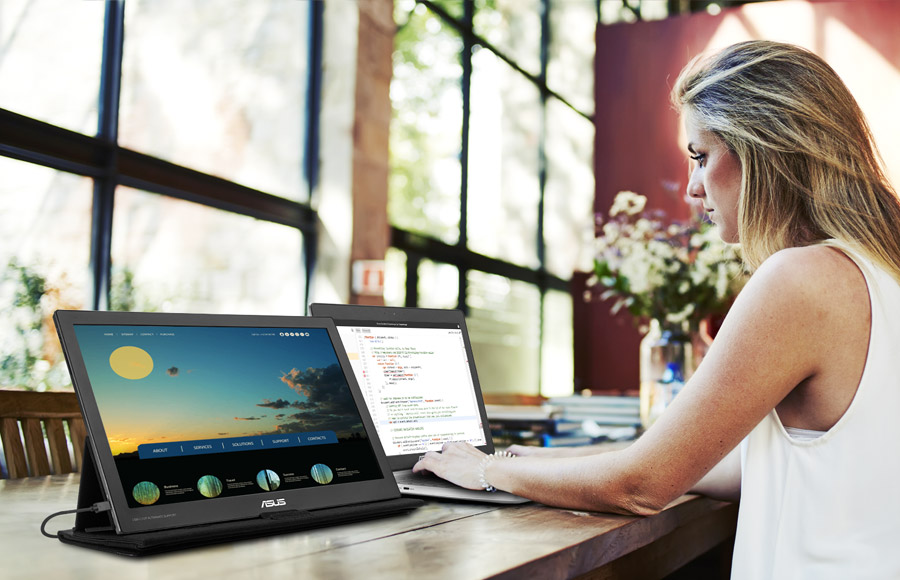 Asus MB169C+ is easy to connect and use which uses a single USB-C cable to transmit video, audio, and power. Asus MB169C+ comes up with a protective sleeve that doubles up the protection. Asus, portable monitor uses (In-plane switching) IPS display, which gives decent viewing angles that make it perfect for watching movies in the group.
---
3. Asus MB168B+ Portable Monitor
Resolution
1920 x 1080
Pros
Thin and light.
Good viewing angles and picture.
Can hook up several of them.
Cons
Needs USB 3.0 for full benefit.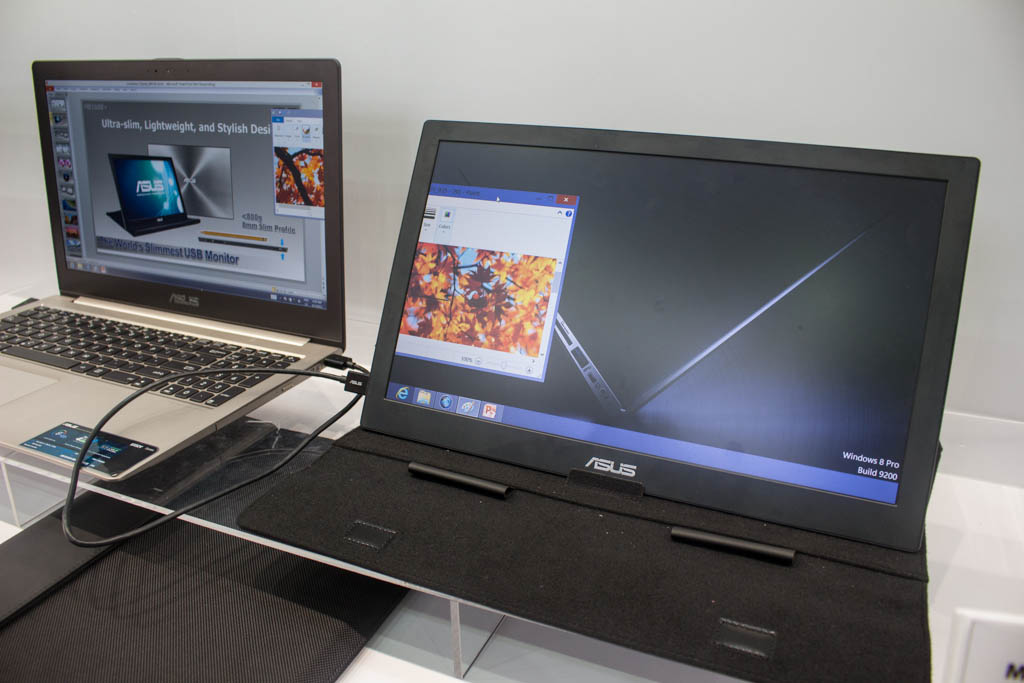 If you like the Audio quality of Asus MB169C+ but you don't have a laptop with USB-C, then the Asus MB169B+ is the best portable monitor for you.
Just like Asus MB169C+ Portable Monitor, Asus MB169B+ also connects with your laptop with a single cable, the only difference is that Asus MB169B+ uses a regular USB-A port which works perfectly with both USB 3.0 and USB 2.0. You will experience latency due to a slower data transfer rate.
Still, Asus MB169B+ will same features sleek and lightweight design. Because of Asus EzLink tech, which offloads the graphics processing from the system to the dedicated hardware in the monitor.
---
4. Desklab Ultralight Portable 4K Touchscreen
Resolution
3840 x 2160
Pros
4K resolution.
A single USB-C cable for power and display.
Cons
Heavy with kickstand cover attached.
Expensive.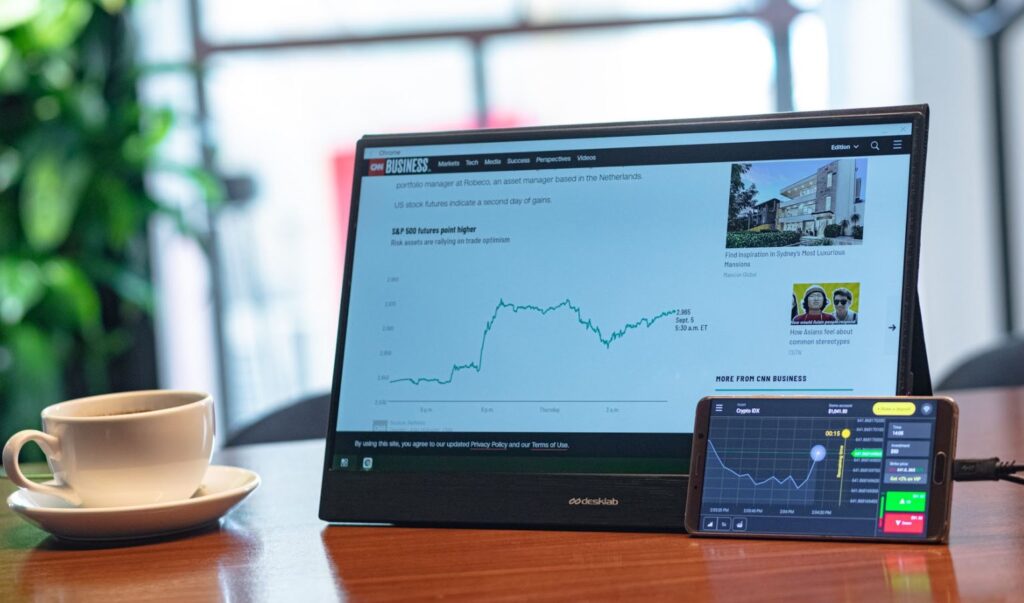 Options are narrowed down if one seeking for slim, portable 4K portable monitor for a laptop that connects with a single USB-C cable for Display, and power. Desklab offers sleek and lightweight portable USB monitor. Which is great for content creators with reflective glass panel, who prefer to use it in a darker room. It looks Attractive because of its sleek design and Ultra HD touchscreen display.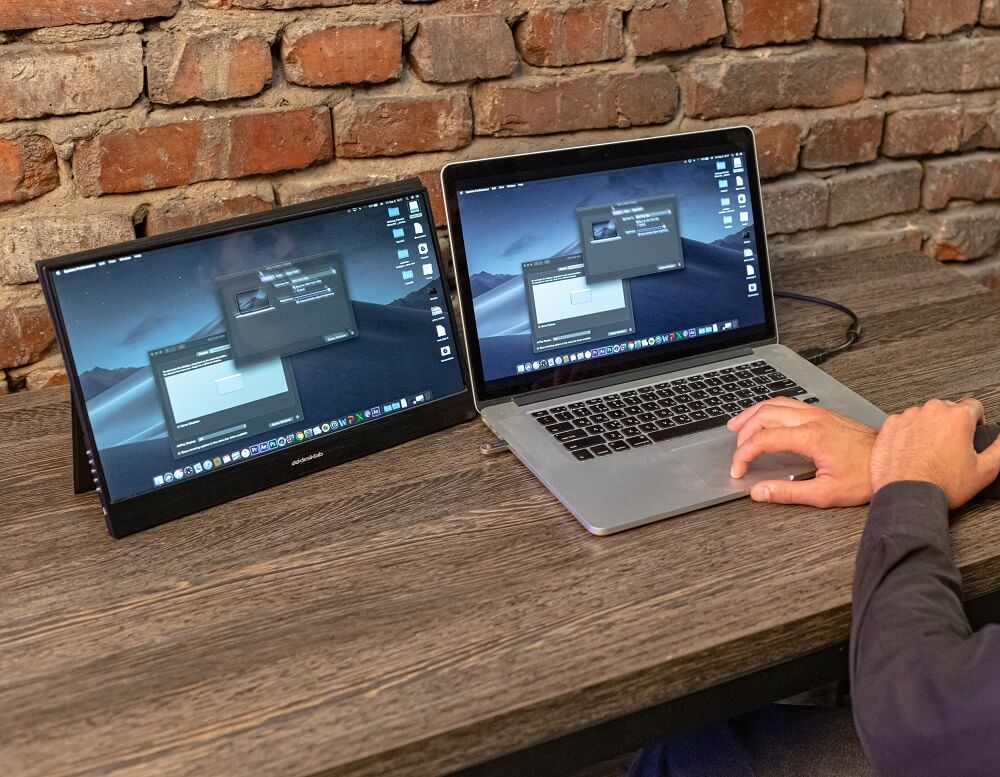 The Desklab's adhesive kickstand cover, which attaches with adhesive rather than magnets, adds extra weight to the portable monitors. All in all, it makes a unique package to be offered by the mainstream brands.
---
Wrap Up
Portable USB monitors for laptops have several advantages if you are a content creator or you are from a creative field and travel a lot, so for you, a portable monitor adds productivity while you shift to multiple places.
And most importantly these portable monitors don't add extra weight to your bag, cause most of them designed in such a way that the users have less hassle in handling them throughout the day.
So please let me know in the comments section, which one of these monitors you are going to buy?