In this growing era of technology Consumers and businesses are relying on VPNs to mask their identity, protect their privacy, and increase anonymity online. And very straight forward in this era, we can't live without the internet and on the internet, the prey is sitting to track your activity and trying to harm you in any possible manner.
Most of the VPN services are centralized and lack transparency with the consumer's terms and policies. This really makes it difficult to know how they are protecting the data that you are sharing through them and available online.
Tachyon VPN has based on a blockchain-based ecosystem that has developed a decentralized VPN that can solve many of the known issues of the VPN. Tachyon VPN uses a network of the Tachyon Node as its infrastructure and service provider, as a result, its server is not controlled and run by a centralized organization. And as the finest result attackers or even governments cannot pressure to provide records of its users.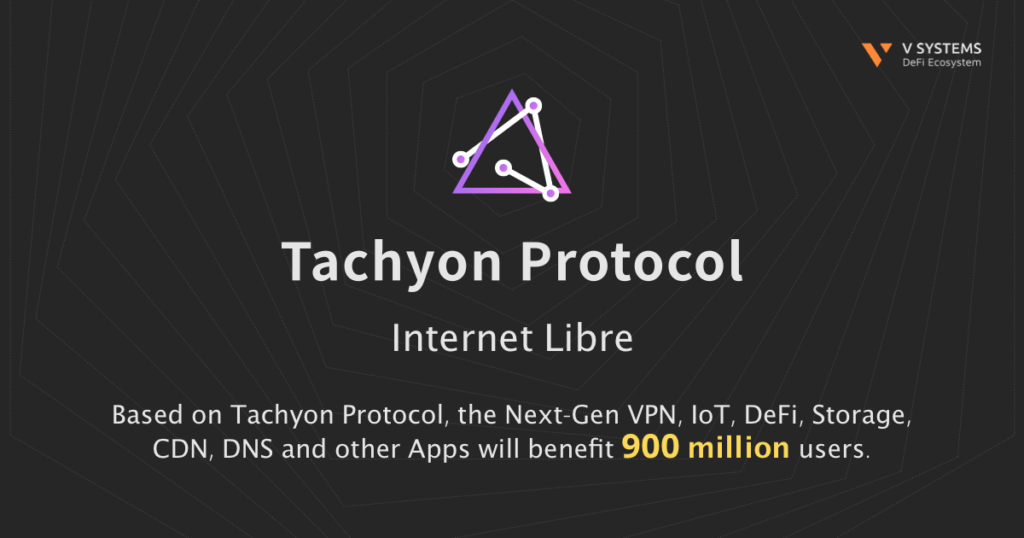 Tachyon VPN
Tachyon VPN is based on the Tachyon protocol in which nodes and users on the company's network communicate with each other. This protocol confirms that internet traffic moves from one place to another privately, securely, and quickly.
The protocol used by Tachyon VPN uses a cryptocurrency called IPX Token, based on V SYSTEMS' blockchain database, for authentication, transaction settlement, and community governance.
Currently, Tachyon VPN is available for macOS, iOS, and Android for windows app is coming soon. Tachyon VPN currently has 163 servers available in 16 countries.
According to V Systems Chief architect, Sunny King this blockchain-based VPN ecosystem Tachyon, has a decentralized virtual private network, of 100,000 users as of April 2020.
Tachyon VPN Team holds prior VPN Expertise
As the team members of Tachyon VPN holds significant knowledge and background in the VPN segment, Tachyon looks to improve decentralized VPN system for a higher level of privacy and security, so that users don't need to compromise with their identity, King said.
With the use of blockchain's capabilities V Systems team wants to grow cloud and database technology, King Says.
And finally, King Says, "I'm delighted that Tachyon VPN has just reached 100,000 users globally this month and I believe that eventually, it would enable a vibrant VPN service marketplace for the world."
So what you guys think about Tachyon VPN, based on a blockchain-based ecosystem. Is this really going to help you in masking your identity and protect your privacy? Let me know your thoughts in the comments section below.