Still confused about Google Meet and Duo which is the best video calling app right. Obviously it's natural, Google offers two video calling apps Google Duo and Google Meet. The first question that comes to our mind is why? So stay tuned to the end of this blog, I'll compare both the apps side by side throughout the blog.
The Duo comes preinstalled on most of the android devices and mostly targeted to customers for casual use. On the other hand Google Meet is built for video conferencing. But surprisingly Google has announced that Google Meet is available for free for everyone up to 100 participants.
That news raise a question in your mind which app is best for video calling and which one should I use?
If you have noticed both the app will get a basic difference between them, Google Duo is used for casual video calling with your friend and family and Google meet is suitable professional use like for video conferencing and webinars.
User Interface
Both Google duo and meet uses Google's material design for a clean and simple design. Whenever open Google duo first it will launch a selfie camera and within the same screen you will get pretty much all necessary options. On top you will get a search bar, the bottom will get an option to create a group, invite friends, and swipe up to reveal the contact list of your phone. And if you swipe down from up you will get voice recording, video notes taking options.
You will also get filter options that you can use during the video call. Anyways if you like it or not it's a personal call.
The UI of Google Meet is simpler and less cluttered. Meet also open the front camera when you launch the app and there you will get two simple options at the bottom. You can create a new meeting or join the existing one by adding a meeting code. The Floating action button is common among all the video calling apps, that you can control during the calls.
As Google Meet is specifically designed for professional meetings it integrates with Google calendar app, which means you can schedule meetings and intimate every one for the same.
Making Video Calls
Video call is becoming the trend these days and people are continuously looking for app/services in which they can easily make a call with least hurdles.
In Duo, you can quickly invite friends or create a group to initiate a group video call. Google Duo allows you up to 12 people in group video calls. And planning to increase up to 32 people in the near future. That is enough for most of the users.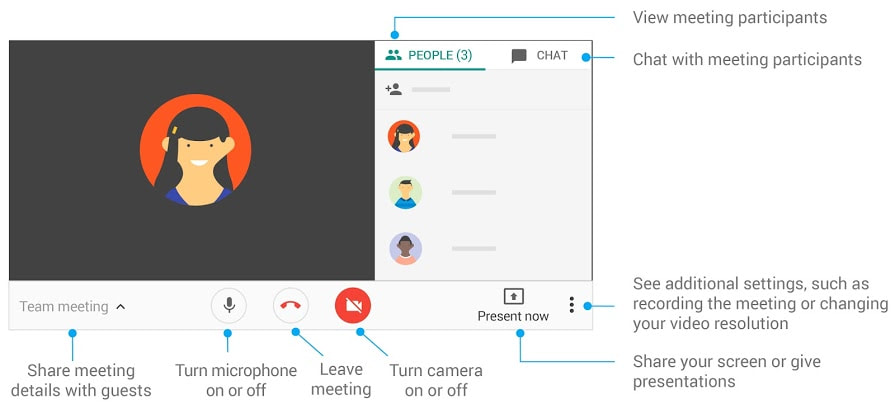 Google meet is also aiming to provide the same experience as the Zoom. Once you launch the Meet app, tap on New Meeting and you will get an option to share meeting invite code. Unlike Duo, Google Meet is usable for messages, but only after you initiate a video call.
Features and Differences
After you start a video call in Google Duo you will get two options, captions and the ability to present screen. The present screen option means Screen sharing. And as the name suggests screen sharing allows you to show whatever is on your phone/laptop screen to all the participants. Mic and audio will be turned off when you are sharing the screen. Captions, on the other hand, are more useful for non-natives who may have trouble understanding the language accent.
Duo offers Dark mode, data saving mode in case of low network connectivity, it also saves some battery. Google Duo offers the Knock Knock feature where you can view the live video feed of the caller in real-time before you pick their call to answer. Last but not the least, in Duo Moments which you can use to take screenshots of important or cool moments during the call.
You can make use of note features to type on beautiful and colorful backgrounds. But the color, pen, and font options are limited. Recording audio or video notes is as easy as tapping the record button. There is no way of recording the live video call in Duo unless you are using third-party apps to record the screens.
There is another feature in Duo that many users don't know. Open Settings > Message settings and you can choose to not save Duo messages. All opened messages or even sent messages, notes, and photos will be deleted automatically after 24 hours. But what if the messages are stored before they expire or the recipient takes a screenshot of the same? Beware of what you share.
By default, Google Meet integrates with Gmail and G Suite users who can use it in a browser. Another major feature that is only available for G Suite users on the web version is the ability to record meetings in Google Meet.
Let's talk about spending some penny
Google Duo comes pre-installed in most of the android devices and you can use it for free. Google Meet has a free plan in which you can add up to 100 participants and some paid plans. Duo supports up to 12 users and (32 users in the near future) in group video calls. Whereas Meet supports 100 participants in the free plan. And for free plan meeting can be done for 60 minutes per session. On the other hand there is no time limit in Google Duo.
Final Notes
Google duo is for everyone who likes to connect with their friends and family members in a very casual way. Duo also has filters and effects which are completely free to use. Google Meet is designed for business, which allows larger numbers of participants, screen sharing, and video recording. Google Duo is a video calling app and Google Meet is a video conferencing app, both of them have their own features and functionalities which differentiate them from each other.
Now, you know the difference between both of them and their purpose. So as always thanks for your valuable time to stay here till the end and have a good day.