In this era of technology every business open their website before starting it, sometimes it feels like the opening website is becoming a trend these days. What others can do when Bill Gates already quotes this.
"If your business is not on the internet, then your business will be out of business."

Bill Gates
Alright, everything apart let's jump into the main content. Creating a professional website used to be the domain of designers and coders. But thanks to growing technology and innovation for a free website builder that can be handled by anyone.
The problem is that there is multiple free website builder and it's really difficult to choose between them, according to their functionality and your requirement.
I've listed down some very best free website builders available including hosted and self-hosted tools.
So if you want your online store, want to create a site for your online business presence, a new blog, or just fancy online presence for yourself. Here is the list of free website builders that helps you to create your online presence.
Best Free Website Builder 2021
---
1. Wix
Wix a powerful name in the website builder tool, you have seen lots of advertisements of Wix in YouTube. As already Wix has a big name in the domain of website builder, offers a free plan to its users. You don't need to put your hand in your pocket.
Wix has a very basic interface to keep everything really simple so that it can be tackled by anyone out there. Wix free website builder is great for beginners. You can create a good looking site without writing a single line of code.
If you are a geekier person and more involved in tweaking your design and function then you can switch to full Wix editor, which gives you powerful functionality. And the ability to curate your website as you want.
Key Features
Very user-friendly ADI editor (Artificial Design Intelligence)
But experts can tweak everything
Powerful and well-featured
---
2. Weebly
Weebly offers you possible ways to create a website. Both of them involve creating it online and both the process is quick and easy to do.
The simplest way to create is to use a basic editor builder which will take you through a series of questions and automatically design a website for you. Obviously you can customize the site latter. But this really helps to develop the site fast and it's easy for the person who is terrified of designing websites.
There are hundreds of templates in the library to choose from and most importantly you can tweak your designs using WYSIWYG editor available there.
Being a cloud-based website builder Weebly offers you good control over the placements of the elements, look and feel of the page. You also get additional features like live chat, newsletter subscription. The flexibility offered by Weebly makes it a top-notch website builder.
Key Features
Powerful free solution
Automatic website building for beginners
Tons of stylish templates
---
3. WordPress
Creating little confusion between two different versions of WordPress free website builder. One is self-hosted and the other is hosted you can download the self-hosted from wordpress.org and you need to upload it to your web server and configure accordingly. Then after installing the WordPress CMS, you install themes and plugins to customize accordingly.
And in the hosted version of wordpress.com, you get almost the same features as the self-hosted, the major difference is that it's not in your server and you don't have full control over the backend.
But still, if you are confused between the both self-hosted and hosted version, I personally recommend you to go with self-hosted as you have full control over the backend and you can do some tweaks if needed.
If you are creating a static site or a blog site with regularly updated content, the online editor is a real joy that helps you to create an impressive, professional-looking site with ease.
Key Features
Easy-to-use online editor
Free themes to use and download
Multiple plugins to add functionality
---
4. Joomla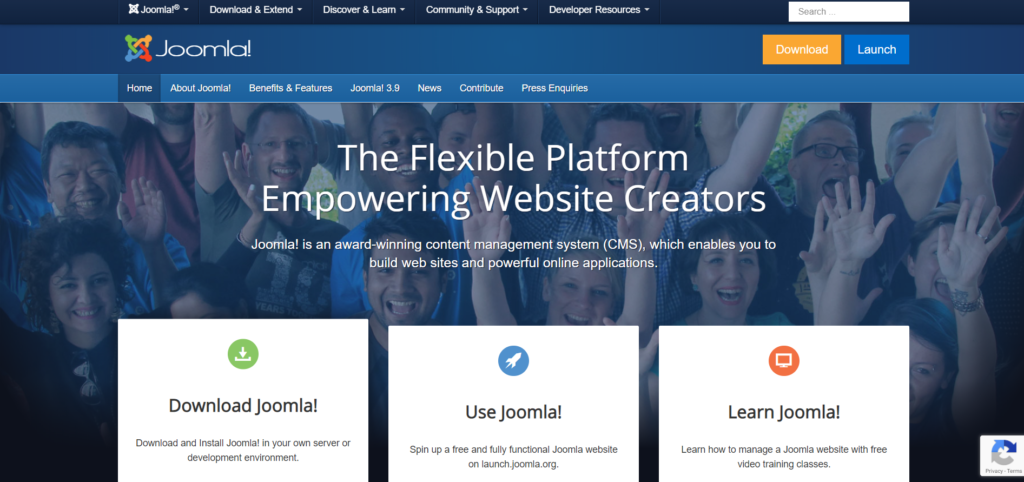 Joomla is another well-known name in the domain of free website builder. Joomla CMS is not as much popular as WordPress but it also offers two different versions Self-hosted and hosted. You can get it from self-hosted joomla.org and hosted launch.joomla.org.
If you choose latter option during the installation you will see that the interface is less approachable than WordPress. Joomla's online website builder is very much complex as compared to WordPress. The USP for Joomla is a collection of themes and extensions. Joomla is not a good choice for beginners as it is not polished as WordPress.
Key Features
Huge range of themes and extensions
---
So, you guy's now you come to know about the best free website builder out there, kindly let me know in the comments section which one you are going to use for your first dream website.