Now Microsoft has taken its first step towards the grammar checking tool like Grammarly. Microsoft finally rebranded Office 365 to Microsoft 365. The rebranding is not just about the name change, they have added the most awaited features such as Microsoft Editor, Plaid integration in the Excel, premium templates, Microsoft family safety app, and much more in the bundle.
So, one of the new feature we are going to talk about in this blog is Microsoft Editor Add-on in Microsoft word. Grammarly is preferable on the go choice for most of us for checking grammar errors, typos, and better word suggestions for our writing.
Microsoft offer its basic editor in word but that is not that much effective as grammarly.
With new Microsoft Editor, they are combining their AI for adding support in more than 20 languages. In this post, we are going to compare Grammarly vs Microsoft Editor with availability, word suggestion, ease of use, and of course price.
So without any further ado, let's get started.
Availability of Grammar Checking Tools
Grammarly is available for Browser extension on chrome, Microsoft Edge, Safari, Firefox, and other Chromium-based browsers. It is also available as an add-on in Microsoft Word Windows and Mac app.
Grammarly is also available for android and IOS too, as a keyboard which helps to type accurately. and has a web version where you can start writing and get live suggestions in the sidebar.
Microsoft Editor is only available as web extension on chrome and Microsoft edge. You can also access Microsoft Editor in Word for Windows and Mac.
We have discussed availability for both the grammar checking tools Microsoft aimed the tool to be work as an Add-on, on the other hand, Grammarly works as a proper product and service.
Checks, Suggestions & Improvements
Let's start with grammarly, at first grammarly asks you to set the goals to know about your audience, type of writing, which domain you are writing, and the tone (expression) of the writing.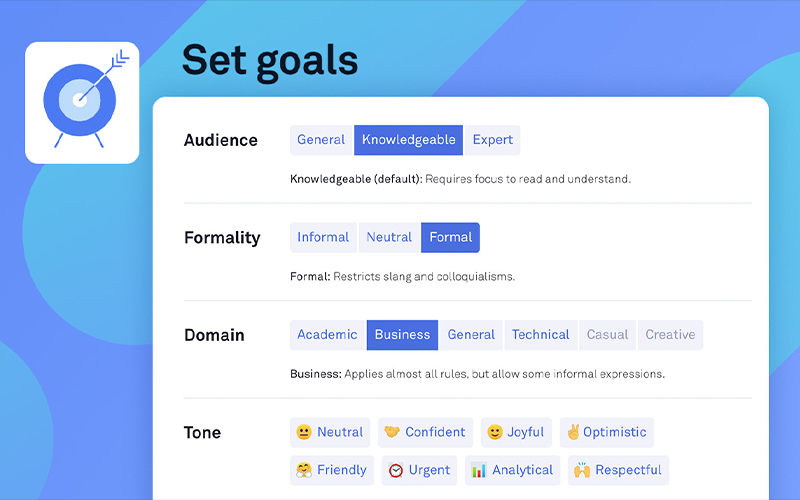 You can easily start writing in grammarly. It will show you popup for the grammar check, suggestion and spell-check. I like the way how grammarly gives details about the suggestion which is given. It improves the knowledge of the writer and gives a broad idea about grammar.
Grammarly has an inbuilt plagiarism checker which is paid feature obviously, which runs a plagiarism check quickly through the web and highlight the sentences in a green line and display the source from the web. And after completion of the correction, it will display your overall performance score. And tells you about some interesting facts like word count, approximate reading time, speaking time, readability, unique words, and rare words.
If we talk about the language support grammarly supports American, British, Canadian, and Australian English. In the personal dictionary, you can also add your unique word.
Alright, here we come to Microsoft Editor. It is divided into three categories   Spelling, Grammar, and Refinements. Microsoft adds three visual differences between the categories. Blue dashed underline shows you the word refinements, and red line asks you to check the spellings, Editor doesn't deep dive into the corrections. It will just give you the basic suggestions of word refinement and advises you to more authoritative with sentences. Synonyms for spelling suggestions are what Microsoft editor offers, which Grammarly doesn't offer.
Grammarly works better with grammar checks and improves your writing, anyways, this is Microsoft's first attempt. It misses out to suggest simple grammar mistakes and a bit slow I felt.
Pricing of Grammar Checking Tools
If we discuss about grammarly most of the features are free. Functions such as plagiarism and advanced alerts come under paid features. It costs you $139 per year. It also offers you expert writing help. Which you can purchase to improve your writing before submissions.
Microsoft Editor is free to use for spell and Grammar checks. Microsoft 365 subscription includes a refinement section. And the personal plan starts at $70 per year, which will get office apps including Word, PowerPoint, and Excel, and also get 1TB space in OneDrive. Otherwise, you can go with Microsoft 365 family plan you can share with up to 5 more people.
Which is best Gram­mar Check­ing Tool
For professionals and advances users who want to improve their writing skills, they can go with Grammarly. The basic version works pretty well. But if you want the clean copy of your article or documents you can go with the paid version. For Microsoft 365 users Microsoft editor is a perfect grammar checker tool.
So, after reading this blog what's going in your mind? Which grammar checking tool you are going to use for your daily purpose? Please let me know in the comment section below.