If you have strong determination, focus, and confidence in yourself then no one can stop you from achieving your goal. So today I'm going to share with you one such inspiring story of Surbhi Gupta from Alwar, Rajasthan.
Entrepreneurship in small towns still considered as not a safe option. Especially if the children ask parents that they want to start something of their own. Surbhi's parents think that her passion and entrepreneurship are not going to call her as wouldn't "suit a girl".
Surbhi recycles things in a very creative and crafty way from a young age. She wanted to pursue design and creativity. But for her parent's design has created the image of the 'blight fashion industry' and she was discouraged to follow her passion.
And being a student she focused on her studies, did well in XII Grade, and got into Delhi University and continue her studies with commerce. And as most of the Indian parents, her parents also wants that she get into teaching, government jobs, or pursue an MBA. She started preparing for CAT. She tried hard but unable to crack the exam.
Parents started doubting her capabilities for her failure and taunting her to learn household work to get married. But Surbhi is blending creativity in her mind will full heart and soul.
To lift herself from depression she renewed her love of presentation and start posting her work on the Instagram page and began to craft and design gift boxes and hampers. Within some time, people were asking for the prices and she got great opportunity to turn this into a business.
Entrepreneurial Journey of Surbhi Gupta
At the age of 23, Surbhi started getting orders from her friend circle, slowly she started expanding her client base. That's how Kalakar Gift Studio was born. Surbhi's self-run Business helps people to present personalized crafty gifts for their loved ones. She designs gift hampers depending upon the person's choice. The price of gift box depends on the demand of the client. She received Rs. 4000 as the highest for one gift box.
With creative idea of Surbhi has crafted around 200 gifts since 2018. She even held a pop store last year in Alwar, at famous coffee shop for a week before Valentine's Day.
Surbhi was able to sell successfully all 50 Valentine's themed gift boxes that she had made. Surbhi was more confident about her venture, after the successful deliveries in Alwar and nearby areas. And decided to scale up the venture to the next level. Surbhi is joining Srishti Institute of Arts and Design's Impact Entrepreneurship course, she applied for the course and accepted. In 2019 she moved to Bengaluru and the course is helping her to take her venture to grow further.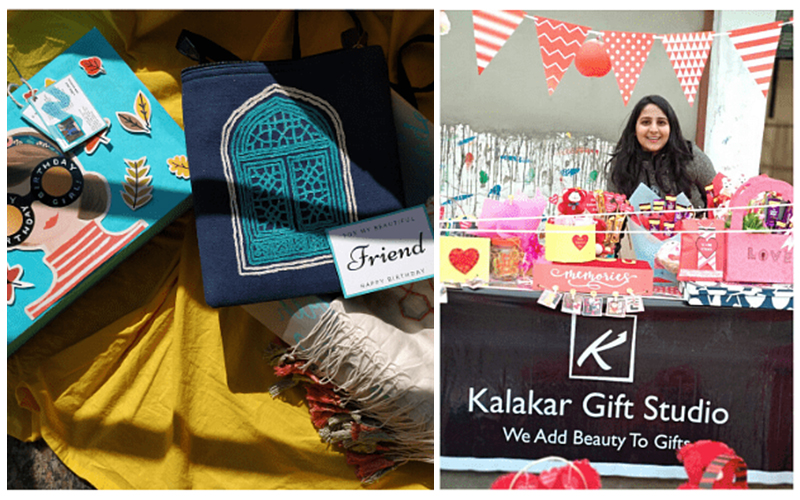 Future Plans for Kalakar Gift Studio
With personal savings of Rs.4000, she started her business which she collected over years and received gifts from grandfather on his birthdays and festival. She made the revenue of Rs. 1.2 Lacks from sales, which she again reinvested in Kalakar Gift Studio.
In Alwar, she take the help of her grandfather house to help her with deliveries. She hopes to employ more women so that they can have their own financial independence.
When she shifted to Bengaluru, she lost her clients in Alwar, but she is receiving orders through Instagram. Surbhi is using Social media to showcase her work and learning the process of trade through the course at Srishti.
Hope after reading the entrepreneurial journey of Surbhi, you get some confidence to start something of your own. How she did not let anyone, even her family, stop her from following her dreams and become an entrepreneur. The inspirational story of Surbhi again proves that if you have strong determination towards your dream no one can stop you in your way to success.
---
Tool useful for you: Soundcloud to mp3 Downloader